Christmas Dry Aged Ribs of Beef
 Fancy something exclusive and pretty much off the wall for Christmas?
Pre order one of our Whole Dry Aged Ribs of Grass Fed British Beef
The reason we dry age our beef is to intensify the flavour and ensure excellent tenderness. Our usual dry aging time is between 28 and 35 days during which time the beef will shrink and loose moisture thus enhancing the beefy flavours.
Taking the dry aging to a different level  this Christmas we are offering for pre order only whole Ribs of Beef Matured and Dry Aged for 90, 60 and 45 days . To dry age ribs at this level requires the finest quality ribs of beef and optimum control of temperature, humidity and air flow.
During this time the flavour profiles and tenderness will change dramatically, the 90 day rib in particular will offer the most intense beefy flavours imaginable with nutty overtures and a taste of the field.
Sadly we can only offer this product for WHOLE RIBS only, however you can order our traditionally matured ribs at various sizes here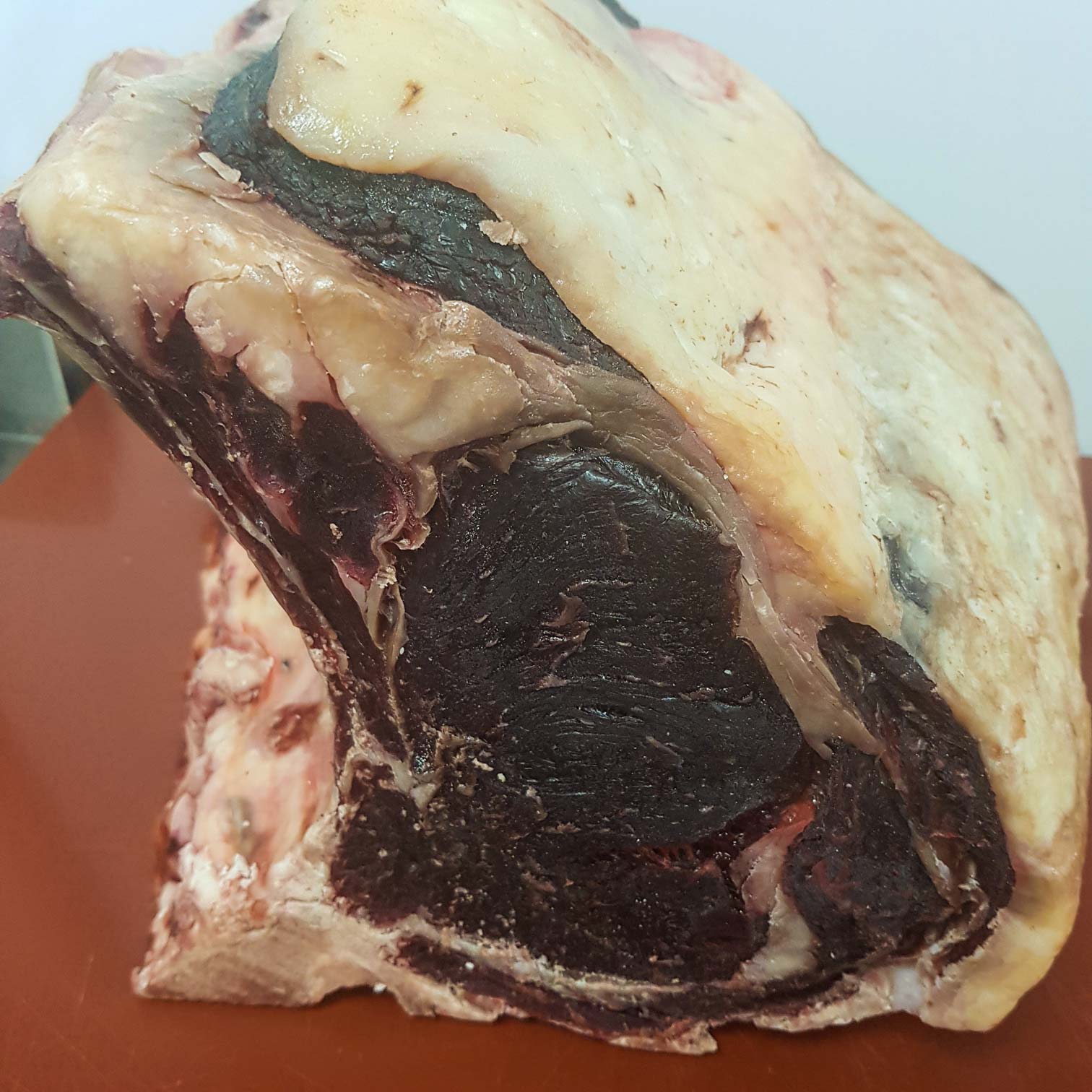 HOW IT WORKS
Once your order is placed we will select, weigh and lay down a premium quality whole bone in rib of beef. It will be placed in our bespoke Maturation room which monitors temperature, humidity and airflow. Your rib will be weighed  fresh and you can expect to loose 20-30% of the weight whilst it is dry aging. We will label your rib with your name and the date of slaughter and send you an image via email as it goes into maturation.
We will prepare your rib ready for the oven the day prior to delivery or collection. Delivery will be made week commencing Monday December 21st 2020. Click & Collect orders will be available for collection the same week until Christmas Eve 2pm
PRE ORDER BY:
90 DAY DRY AGED CHRISTMAS RIB
Saturday 26th September 2020
60 DAY DRY AGED CHRISTMAS RIB
Monday 26th October 2020
45 DAY DRY AGED CHRISTMAS RIB
Tuesday 10th November 2020